HUGOTON — There was a time dairy cows were about as common as trees in southwest Kansas.
There weren't many.
But things have changed in 20 years, when the state's first large-scale dairy was built and expansion of the fledgling industry was merely a dream, The Hutchinson News reports.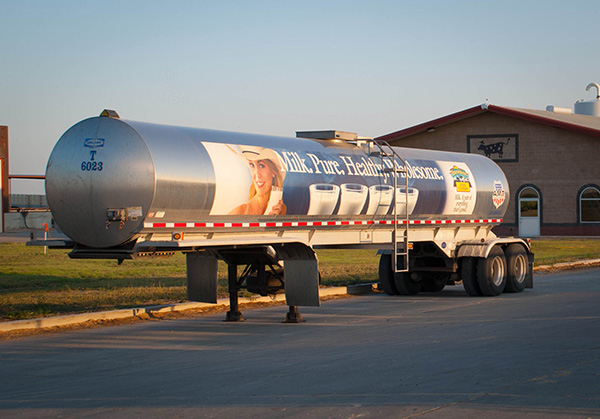 It's mid-afternoon at MasCow Dairy near the little town of Moscow in Stevens County, where employees are milking 3,400 cows. A tanker truck of milk kicks up dust on the dirt road, leavingthe farm and heading 12 miles to the new Kansas Dairy Ingredients plant just 12 miles away.
In a landscape now dotted with dairies, southwest Kansas has its own little processing plant, churning out product that eventually is made into Kraft Singles and Velveeta Cheese.
"Most generally, those trucks would have gone southeast and sometimes as far as Georgia or Alabama," said dairy operator Jody Wacker, who helps run the dairy with husband Adam. "The big picture of this processing plant is our farm is benefiting. We were shipping milk hundreds and hundreds of miles and now we only have to ship it 12."
The new Kansas Dairy Ingredients plant at Hugoton is just the start of what could be even more expansion in southwest Kansas, where today a few dozen industrial-strength dairies dot the horizon where crops like wheat and corn once grew — operations that stretch across a mile section.
Gov. Sam Brownback has long made it a goal to grow the rural countryside, putting focus on attracting more dairy operators to western Kansas from states like California, where urban growth has crowded some dairies. He also wants to attract plants to develop finished products such as cheese.
Today there are more than 120,000 cows in the state — a 50 percent increase since 1996, according to Kansas State University. Most are concentrated in western Kansas.
With the arrival of Kansas Dairy Ingredients, Hugoton is positioned as a leader in Kansas' rapidly growing dairy industry, which now includes approximately 400 dairy farms, 12 dairy processing plants and 68 milk and dairy distributors, according to the Kansas Department of Commerce.
"Most locals don't realize the impact the dairy industry is having on Kansas," said Judy Parsons, KDI's plant administrator who, on this day, was preparing for an open house. "But you can see it from just the milk tankers on the road."