By Jennifer M. Latzke, High Plains Journal
With 4,000 cows, the folks at MasCow Dairy of Moscow, Kansas, figured the bilingual play on words was an appropriate name.
"Mas cow" in Spanish means "more cows," after all. And the production and marketing advantages that come with "more cows" are working for MasCow Dairy and the other two dairies operated by Ag Oasis.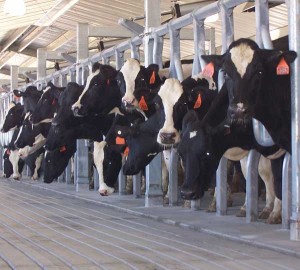 MasCow is one of three dairies under the Ag Oasis umbrella, which also includes Tuls Dairy, also in southwest Kansas, and Lost Trail Dairy, in western Oklahoma. It all started when Pete Tuls and his brother Todd Tuls came to western Kansas and started the Tuls Dairy about 15 to 20 years ago, explained Jody Wacker, stewardship manager of MasCow Dairy. Shortly after coming to Kansas from California, the Tuls bought the Lost Trail Dairy in Boise City, Oklahoma. And then in 2007, the partners built the MasCow dairy south of Moscow from the ground up. Wacker and her husband, Adam Wacker, are partners in MasCow Dairy and are the managers of the facility.
MasCow is in a prime location in southwest Kansas—what is quickly becoming the Dairy Case of the state. There are advantages to operating a larger dairy in the region, Wacker explained.
First, there is enough land that a larger dairy can spread out and not sit right on top of neighbors. While dairies like theirs follow Kansas Department of Health and Environment rules, the lack of a lot of surface waters helps keep their environmental impact low. There's also a favorable climate for cows, as drier weather means cleaner pens and better cow comfort. If there's an upside to drought, it's that it means dry pens for dairy cows, Wacker said.